Class Schedule and Pricing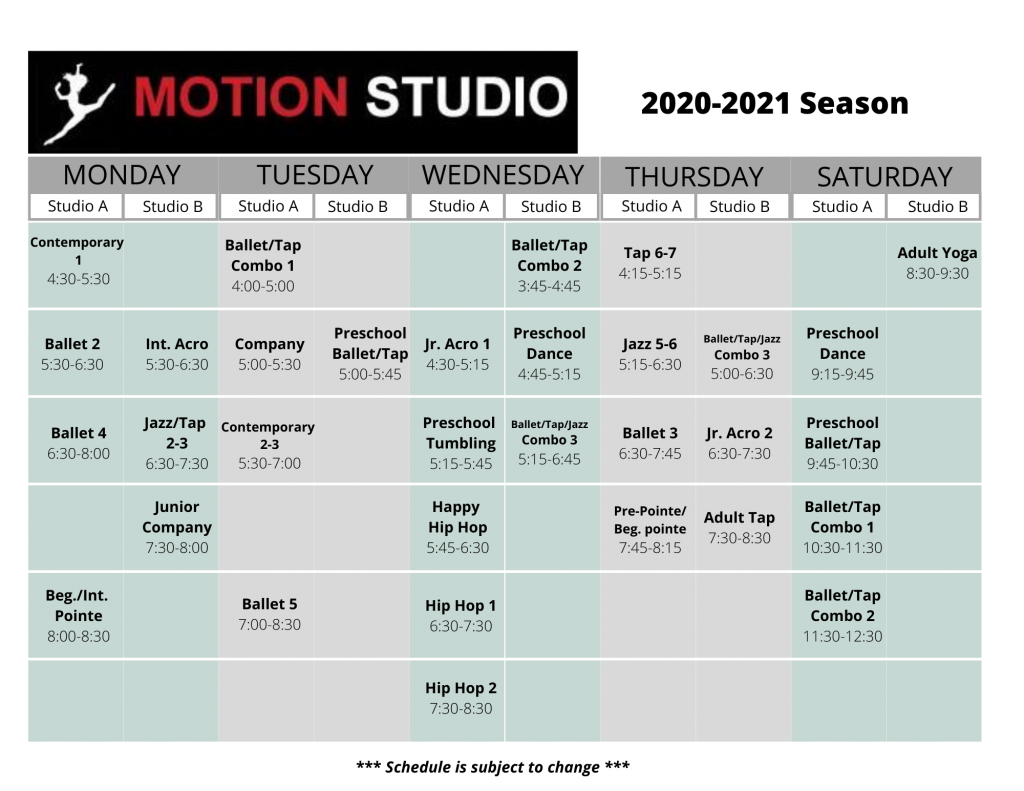 Click here to download our latest Class Schedule and Pricing details.
Simple, consistent tuition payments for your budget!
We keep your life simple and easy with a convenient 12-month payment system with tuition averaged out into automatic payments on the 1st of each month. You will receive an email account statement on the 15th of each month to indicate your upcoming charges. (Classes that don't participate in recital will end May 29, 2021 and will not pay June tuition.)
A non-refundable yearly registration fee of $40 for 1 student or $50 per family is due upon enrollment. Other fees that will be automatically deducted: (Performing students only.)
August 1: Recital Fee for December Showcase, $50 per student.
September 1: Costume Rental for December Showcase,$25 per costume. Each class that performs generally has one costume.
February 1: Recital Fee for June Gala Showcase, $50 per student.
March 1: Costume Purchase Deposits, $25 p/costume. (Costumes for the June Gala Showcase are purchased.)
April 1: Costume Purchase Balances,the remainder of the costume balance which will be between $35-$55per costume.
TENTATIVE Showcase Dates (Subject to change.) December 8 / June 8 (Tuition is paid in full for recital months as dress rehearsals and shows are counted as class time.)
MUSIC-We have private music lessons too! Ask us about piano, voice, guitar and more! Private music lessons are $22p/ half hour and meet weekly.
Adult Class Card $130 for 12 classes/ $14 Single Class. 50% off for parents of currently enrolled students!
Important Dates 2020-2021:
July 13: 2020-2021 classes begin
September 7: Closed for Labor Day
September 14-19: In class sizing for costumes
September 21-26: Peek Week-Family and friends are invited into the studio to watch class.
October 3: Harvest Homecoming Parade-all are welcome to march with us.
October 12-17: Closed for Fall Break
October 26-31: Halloween Dress Up Week-Wear your costume to class (Optional)
October 31: OPEN for Halloween
November 13-14: Picture Days for December Showcase
November 26-28: Closed for Thanksgiving
December 11-12: DRESS REHEARSAL AND DECEMBER SHOWCASE
December 14 -January 4: Winter Break-No classes.
January 4: Classes resume
February 15-20: In class sizing for costumes
March 8-13: Peek Week-Family and friends are invited into the studio to watch class.
March 29-April 3: Closed for Spring Break
May 7-8: Picture Days for June Gala Showcase (TENTATIVE)
May 29: All non-recital classes end
May 31: Closed for Memorial Day
June 11-12: DRESS REHEARSAL AND JUNE GALA SHOWCASE (TENTATIVE)
NOTE: closed dates may not apply to private lessons. Check with your teacher.
Be sure to read the Student and Family Handbook for more important dates and details! Our primary means of communication with you is email. Please read the emails we send you!