Class Schedule and Pricing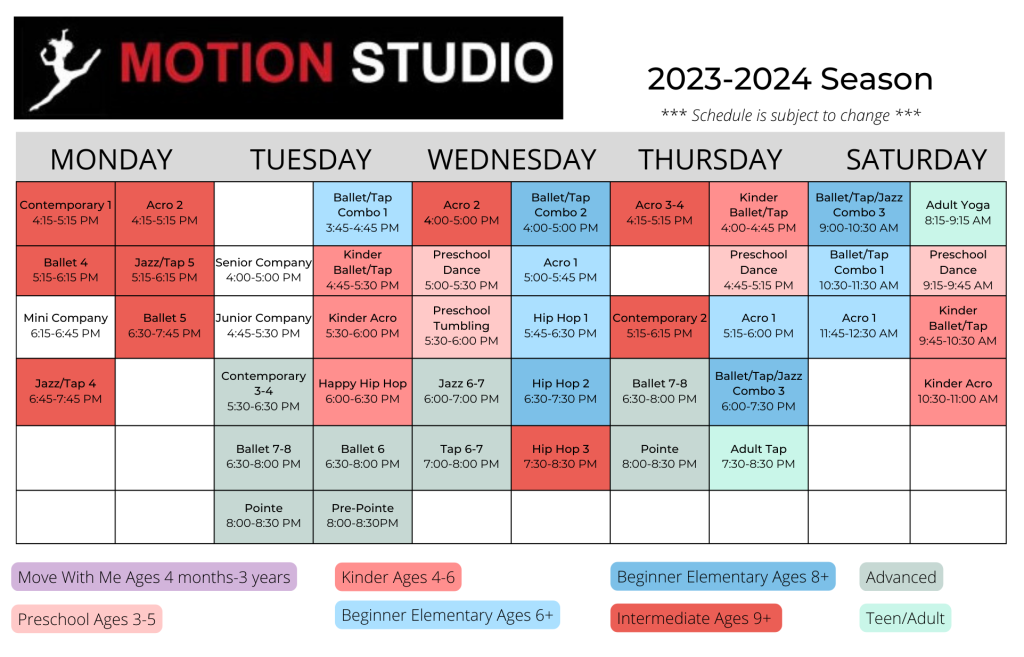 Simple, consistent tuition payments for your budget!
We keep your life simple and easy with a convenient 12-month payment system with tuition averaged out into automatic payments on the 1st of each month. You will receive an email account statement on the 15th of each month to indicate your upcoming charges. (Classes that don't participate in recital will end May 25, 2024, and will not pay June tuition.) A non-refundable yearly membership fee of $55 for 1 student or $65 per family is due upon enrollment.
Other fees that will be automatically deducted: (Performing students only.)
September 1: Recital Fee for December Showcase, $55 per student.
October 1: Costume Rental for December Showcase, $25 per costume. Each class that performs generally has one costume.
February 1: Recital Fee for June Gala Showcase, $55 per student.
March 1: Costume Purchase Deposits, $30 p/costume. (Costumes for the June Gala Showcase are purchased.)
April 1: Costume Purchase Balances, the remainder of the costume balance which will be between $35-$75 per costume.
TENTATIVE Showcase Dates (Subject to change.) December 16 / June 8 (Tuition is paid in full for recital months as dress rehearsals and shows are counted as class time.)
MUSIC– We have private music lessons too! Ask us about piano, voice, guitar and more!
Private music lessons are $24 p/ half hour and meet weekly.
Adult Class Card $135 for 12 classes/ $14 Single Class. 50% off for parents of currently enrolled students!
Be sure to read the Student and Family Handbook for more important dates and details! Our primary means of communication with you is email. Please read the emails we send you.