MOTION STUDIO'S MUSIC DEPARTMENT
Our teachers are very flexible and keep their own private schedule, which makes it easy for re-scheduling, busy school schedule changes, and permanent schedule changes. We know how busy life can be, and we aim to make it easy on your schedule!  
Private music lessons with our top notch music teachers are $22.00 per 30 minute lesson.
PIANO/KEYBOARD
GUITAR/BASS
VOICE
CLARINET
FLUTE
SAXOPHONE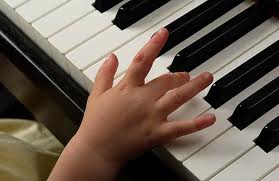 Performance opportunities are available for all of our music students.  Be sure to ask you teacher for details!
Meet the inspiring teachers in person and get yourself or your child started on a life long journey of musical learning. To schedule private lessons or a free 30 minute trial lesson and consultation call Motion Studio at 812-207-4434.
Meet out Amazing Music Teachers!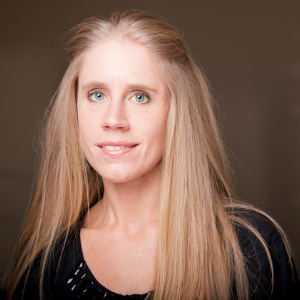 Jennifer Constantine, Music Instructor
20 years teaching experience, from the outskirts of Detroit, started her music study at the age of four. She participated in dance, theatrical performances, skits, and choirs throughout her educational course.
Her first music teacher, Makiko Jones [teacher, performer, published composer], from Kokubunji, Tokyo, Japan, instructed her in piano for four years. When Makiko retired, Jennifer continued under the instruction of Lisa Azar, who was one of the leaders of the Music Teacher's Association in her city.
Throughout her life, Ms. Constantine has received professional instruction in the spectrum of instruments including: piano, clarinet, saxophone, trumpet, violin, guitar, percussion, and more.
She was taught the art of teaching by Lisa Azar while she was still under her musical instruction when she was just 13. By the age of 14, she began teaching private lessons. When she turned 15 she joined the city's jazz band, playing the keyboard.
Her whole life she has participated in performances, recitals, shows, and concerts, as she furthered her musical education and experience.
She has also donated her time and worked pro bono to further the music education in her hometown.
Since then, she has composed multiple works, as well as created specialty lesson plans for early childhood piano instruction. 
Theatre Instructor and Vocal Coach, for over 10 years, Ms. Constantine has been coaching and instructing groups of students and classes in stage performances, choirs, skits, short plays, and vocals.
She has traveled to teach a variety of classes and groups who have performed at conventions in Quebec, Canaca; Destin, Florida; Gulfport, Mississippi; Myrtle Beach, South Carolina; Arkansas, Wisconsin, Tennessee, and more.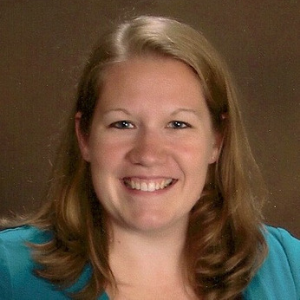 Michelle A. Welp, Vocal Instructor
Mrs. Welp got her start singing in choir at school and church in middle school and discovered her love for music. From there she began participating in musicals and show choir through high school and in local acting groups.
Her favorite characters to portray were Golde in Fiddler on the Roof and Sr. Robert Anne in Nuncrackers. While attending Oakland City University, her college choir performed at Carnegie Hall in New York City under the direction of composer John Rutter.
During her 11 years of teaching, Mrs. Welp has had students and choirs attend local contests such as Solo & Ensemble and receive high scores resulting in silver and gold ratings.
Mrs. Welp holds a Bachelor of Music Education from Oakland City University and a Masters of Education from Indiana Wesleyan University.
She currently teaches K-8 music at St. Michael School in Louisville, KY. She also cantors at Holy Family Catholic Church.
Mrs. Welp lives in New Albany, IN with her husband and high school sweetheart, Adam, and their two children, Benjamin and Emma.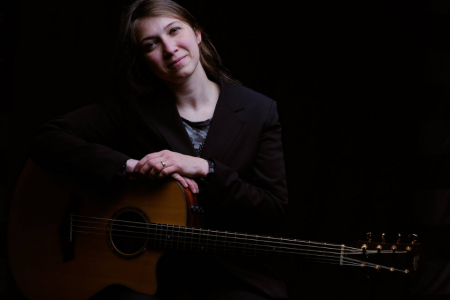 Romana, vocal, guitar, clarinet, saxophone, flute instructor
Romana graduated from Cornell University with a BA in Molecular Biology and English, then went on to earn a PhD in Microbiology and her MD from University of Louisville.
Romana's first musical education was through her father, also a scientist and musician, who began to teach her guitar at the age of ten. She joined her middle school band as a soprano and bass clarinetist, later adding alto saxophone to her growing list of instruments. She has played in symphonic, chamber, marching and auxiliary groups throughout her academic career. She was recently selected as a volunteer guitar instructor for the 2019 Girls Rock Louisville summer camp and teaches group guitar classes through the Kentuckiana Association of Musicians and Singers (KAMS).
Her professional musician credits include her own solo music on baritone guitar, woodwind player in several local bands. Her professional woodwinds are: clarinet (soprano, alto, bass), saxophone (soprano, alto, tenor), and flute.
A lifelong musician, she discovered Middle Eastern music during her graduate studies at University of Louisville in 2008. She consequently pursued instruction in Middle Eastern percussion, including dumbek, deff and riqq, all members of the hand drum family, as well as oud and saz. She is a member of Sulh Music Ensemble, contributing member of Raqs Maqom, as well as the local acoustic duo Hathor's Fire.
Romana is also a novelist, writing science fiction based on her experiences as a physician and scientist, as well as fantasy, based upon her experiences as a human being.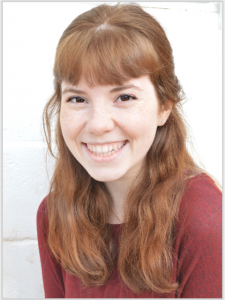 Amelia Welsh | Vocal, Piano, Guitar Instructor

Amelia holds a Bachelors of Music from West Virginia University and will graduate with a Master of Music from the University of Louisville in May of 2021. Singing is her passion, and she has been involved in many operas and performances over her college career, including The Old Maid and the Thief, Green Eggs and Ham, the Magic Flute, and Gianni Schicci. In 2017 she had the opportunity to attend the American Institute of Musical Studies and made her Austrian debut singing in the Lieder program in Graz, Austria.
In addition to singing classical music, Amelia was part of the West Virginia University bluegrass band and spent time touring schools in southern West Virginia to promote the traditional bluegrass styles of the area. She loves writing her own folk style songs with her guitar, which she fondly named Martin. Amelia believes in developing healthy vocal habits that fit the lifestyle and vocal choices of her students as individuals. Making music is an incredible tool for self expression, and most importantly, is a wonderful way for people of any age to have fun!
Her teaching experience includes a home studio, teaching students through her graduate pedagogy classes in college, and instructing students with visual impairments through online sessions for the Virtual ExCEL academy.
In her spare time, Amelia enjoys spending time in nature, visiting local thrift shops, crocheting, listening to Taylor Swift, and spending time with her fiancé, Wes.